Controlled Environments Company (CEC) has been named as one of Ireland's Best Managed Companies. The awards programme is led by Deloitte, in association with Bank of Ireland. The company, which demonstrated superior business performance, was recognised at an awards ceremony on Thursday 14th September. There are 130 indigenous companies recognised with this classification, representing 24 of the 32 counties across the island of Ireland.
The network of companies has a combined turnover of €17 billion and €3 billion of export sales, providing employment for over 53,000 people across Ireland across a range of sectors - from manufacturing and tech to construction and food and beverage. A detailed judging process precedes the recognition, evaluating the entire management team and business strategy. The judges look beyond financial performance at areas such as a company's environmental, social and governance standards, strategic planning and talent strategy, when awarding Ireland's top privately owned businesses.
Commenting on the award, John Doyle, CEO, Controlled Environments Company said: "I am delighted to receive this award on behalf of CEC and that the strong performance of our company and the hard work across all our teams has been recognised by the judging panel. I'd like to thank our excellent management team and all involved in achieving this award."
Brian Murphy, Lead Partner for Ireland's Best Managed Companies Awards Programme at Deloitte Ireland said: "This year we're celebrating 15 years of the BMC programme and the incredible companies that have qualified. Even though this year's cohort faced into another challenging period, over the past 15 years we've seen how indigenous Irish businesses find opportunities in change. Strengthening governance and recognising the value of specialist expert advice on critical areas such as ESG were key discussion points in the coaching sessions. We also saw companies increasingly focused on innovation driving internationalisation. Despite the uncertainties of the past few years, the confidence of Irish businesses is clear as more and more are scaling their market reach internationally."
Nikki Canavan, Senior Director, Head of Origination & Sustainability, Corporate Banking Ireland, and judging panel member said: "Over the last number of years the companies in the Best Managed Companies network have shown huge strength in the face of disruption and uncertainty. This year in particular - a year that tested Irish businesses like never before - the judges noted the commitment, bravery, resilience and tenacity of the applicant companies."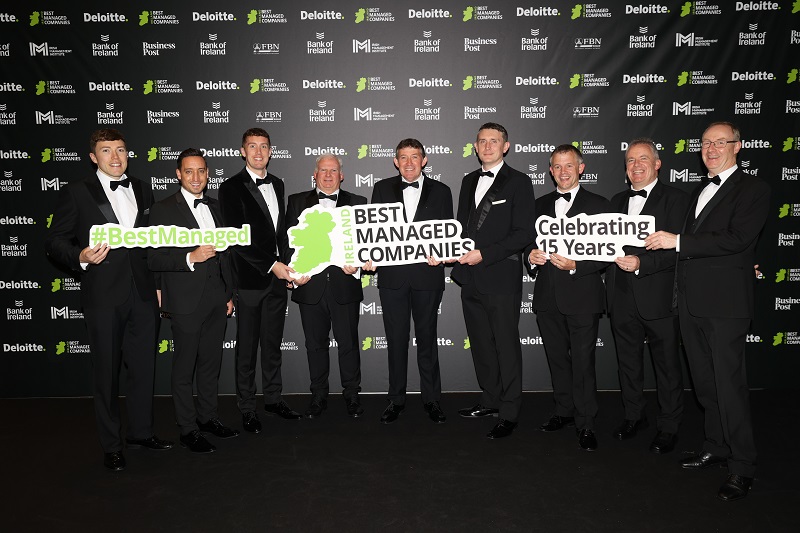 About Controlled Environments Company
Controlled Environments Company (CEC) is a single-source supply partner and service provider to companies operating in critically clean and controlled environments. The company was established in 1996 to service the emerging microelectronics, pharmaceutical, life science and medical device industries in Ireland.
Providing end-to-end solutions for our customers, our scope includes: cleanroom products & consumables, cleanroom furniture & equipment, VMI & Kanban programs, supply-chain management, on-site service provision, and much more.
About the Best Managed Companies Awards
The Deloitte Best Managed Companies programme, in association with Bank of Ireland, promotes and recognises excellence in Irish/Northern Irish owned and managed companies. It is the only awards scheme on the island of Ireland that considers a business' performance from every perspective. Entrants to the programme will compete for this designation in a rigorous process that evaluates the calibre of their management abilities and practices.
Programme sponsors are Bank of Ireland, the IMI and the Business Post. For further information, visit www.deloittebestmanaged.ie
International History of Best Managed Companies Programme
The Best Managed Companies Programme originated in Canada in 1993, where it has been run successfully ever since and is the country's leading business awards programme. In addition to Ireland and Canada, the programme is currently run in a total of 48 countries including China, The US, Southeast Asia, The Netherlands, Belgium, Germany, Denmark, Czech Republic, Italy, Sweden, Norway, Turkey, Mexico and Chile.
About Deloitte
At Deloitte, we make an impact that matters for our clients, our people, our profession, and in the wider society by delivering the solutions and insights they need to address their most complex business challenges.
As the largest global professional services and consulting network, with approximately 415,000 professionals in more than 150 countries, we bring world-class capabilities and high-quality services to our clients.
In Ireland, Deloitte has approximately 3,000 people providing audit, tax, consulting, and financial advisory services to public and private clients spanning multiple industries. Our people have the leadership capabilities, experience, and insight to collaborate with clients so they can move forward with confidence.
About Bank of Ireland
Bank of Ireland's purpose is to enable its customers, colleagues and communities to thrive. The Group is one of the largest financial services providers in Ireland, offering a wide range of banking and other financial services and operating Ireland's largest retail branch network. In the UK, the Group has long-established partnerships with the Post Office and the AA providing consumer financial services. The Group's international business is conducted by its Corporate Banking and Global Markets team operating from Dublin, London, and offices in continental Europe and the United States.
Controlled Environments Company offer a complete end-to-end solution for customers operating in controlled environments. Click here to learn more.